When looking at cabinets, we wanted something very functional and of good quality, knowing we'd put them through a lot of use. After settling on a fairly easy option for the kitchen we realized our bathrooms would have to have custom cabinets due to uncommon sizes (oops). This turned out great however because our neighbor has a cabinet company and we ended up having them do the whole house. They typically do unfinished cabinets but offered to finish ours if we wanted them too. After talking with several people, and feeling a little gutsy, I said I thought we could do it ourselves.
Day of installation was quite exciting – at this point our house was rapidly making progress towards being livable. This is another neighbor. It was nice to know we were in good hands.
Kid's bathroom boxes set in place.
Our kitchen – installed and ready to be finished!
Guest bath – isn't the wood beautiful!
Now comes the real work, finishing them! It seems that I have a streak of Tom Sawyer in me – here's all the people that helped with with this huge project.
First to stain the drawers and boxes. Lori and Alicia did all of this part for the three bathrooms. They had some little help as you can see.
Having exhausted that resource, I invited over an unsuspecting friend to help me with the kitchen. This time I got to experience first hand how bad the fumes can be – open all windows and turn on the fans! We finished the kitchen boxes one day then Lance and I did most of the drawers and doors another day – that boy is a hard worker!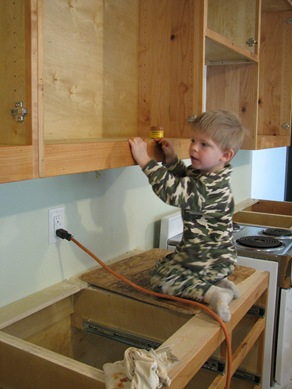 Lance also helped me put wood putty in all the nail holes. I'm thinking he might turn a decent profit if we hire him out in the next year or so.
I used a water based topcoat in the bathrooms, it was mild and easy to use. Lance enjoyed helping with this project as well.
Ivy was good with the sanding block.
Progress slowed when they discovered a new obstacle course.
Kids bath complete (except countertop). The plan is to use the longer section of cabinet as a changing table, with my cloth diapers stored on the shelves underneath.
Later, I put a stronger finish on the kitchen cabinets – wow, if I thought the stain vapors were bad, this was about triple the power. Pretty much kept all the curious away for a day or so. I worked on this all one evening, early the next morning with Brian's help before work, and then a good part of another day.
To save a little time on the re-moveable pieces we set up at a neighbors house to spray on their topcoat. (we sure have handy neighbors, don't we?) This is just the bathrooms – took about 5 hours.
Making the lacquer airborne isn't very good for the lungs, and even though we were outside, I didn't want to take any chances.
Having gained a little confidence in the DIY department, we set up to do the kitchen in our own backyard. Good thing, because this time it took all day! We were able to break for lunch in shifts and monitor little ones down for a nap.
Brian sanded while I sprayed (sorry, no picture of me, I was working) both of us kept busy pretty much the whole time. The older kids played beautifully all day, allowing us to finish up by the time the sun went down.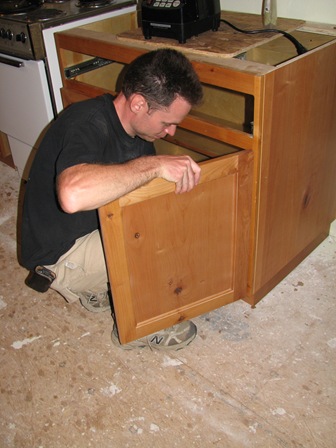 As a reward for such hard working, good playing children (oldest helped their Grammy in the garden for several hours) they got to watch a video while we put all the hardware back on and assembled our project!
Kitchen (with our beautiful plywood counters again – real ones come in about a week). I really love how everything turned out! I like having invested the work in them, and also that others shared in the labor with me – just makes me smile when I see these cabinets and remember.
Lastly, another benefit gained was all the time working with my hands allowed me time to work my brain as well and put my next set of verses firmly in my mind. That is a finish that will long outlast the shiny newness of these cabinets.