Last week we had some nice weather on the Ft. Worth Zoo half price day so on a whim I decided to take the kids.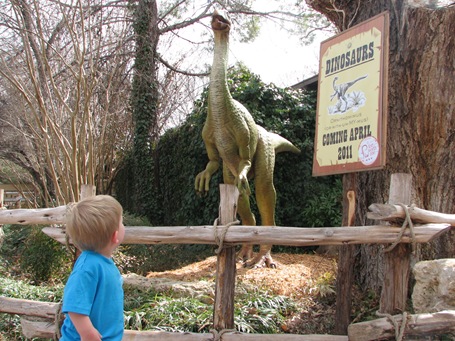 This little guy is advertising some dinosaur exhibit coming in April. He also jinxed our whole trip. He moved a little and made a dinosaur noise. He made Lance nervous and Ivy terrified (she wouldn't even look at it) and then the kids were scared of half the exhibits afterwards! Of course, that may have been my fault because we went to the reptile house first. It's also Daddy's fault because of the "scary alligator" episode at the Rain Forest Cafe. Neither kid would go near the alligator at the zoo.
Here is Lance nervously sitting on the turtle statue for a picture. I kept telling him it wasn't real but I don't think I ever convinced him. If that thing had moved……
He eventually warmed up to the turtle exhibit (after all, they are extremely interesting animals) and enjoyed chasing them up and down the glass tank. Ivy liked the fish.
This guy was a little scary too but he was still enough not to cause alarm – especially after we had already braved the snakes. Did I mention Ivy mostly stayed in the stroller?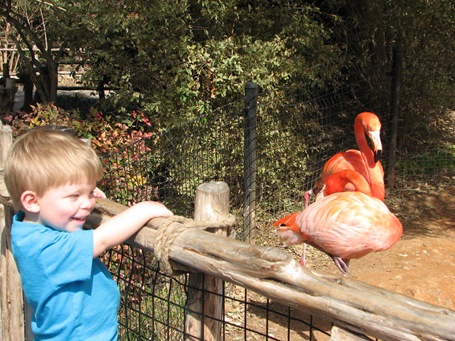 Flamingos were less scary and very noisy – Lance started enjoying himself.
This was a very cool train "exhibit" that elicited more interest out of the two of them than any of the other animals did.
Ivy had regained her composure by the time we made it to the penguins and both kids enjoyed seeing them up close.
Elephants, giraffes and the frisky monkeys were also great fun. So we ended the trip on a happy note though the next day Ivy came to me in the kitchen saying "scary," I asked her "scary what?" She seriously replied "scary alligator."
Lastly here are a few animal pictures that I liked.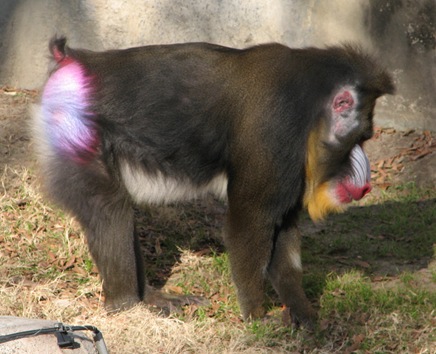 This one isn't that great but check out the colors on this Mandrill! The sign said it was so the pack could easily recognize him as the leader but I wonder if it's more useful in impressing the girls!

Zebra
Flamingo
Komodo Dragon