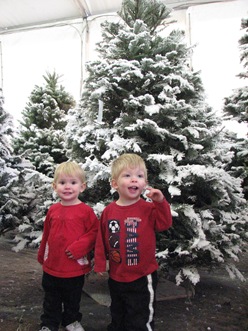 Saturday morning we decided to visit a Christmas tree farm. (this was the same place as the pumpkin patch we visited earlier).
We mostly went because we knew it had a little train that ran on weekends and Lance is obsessed with them right now. Unfortunately, two of the train cars had a flat so it wasn't running when we arrived. Poor Lance, all he could talk about was the broken train.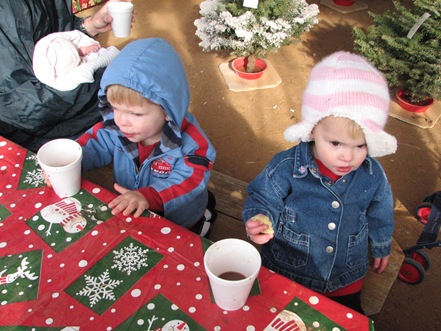 We asked if maybe they could disconnect the bad cars and get the train running. Well, these people believe in service and everyone having a good time, so they got to work! Meanwhile we enjoyed some hot chocolate and the bounce house.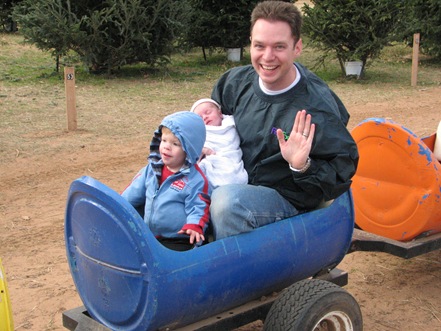 Hooray!! A train ride for Lance!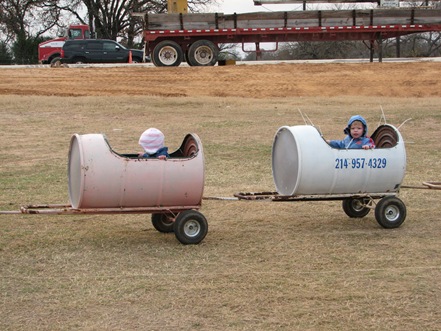 Then we went to the tree farm next door and rode their train too – Lance was in heaven!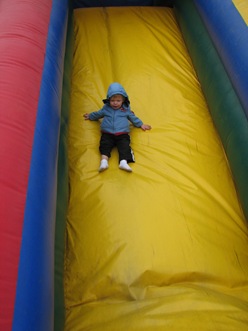 This place had a bounce house slide which the kids (and parents) loved!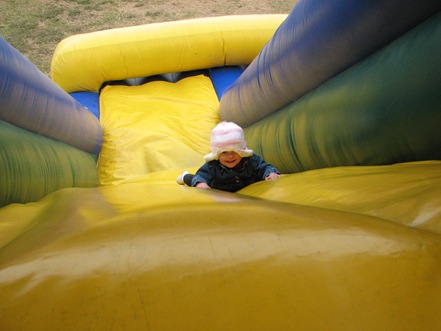 Ivy likes to go down backwards – I guess it's less scary that way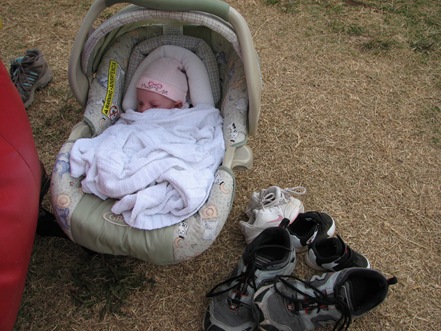 Flora opted to guard the shoes.
On our way home Brian had us stop by Grapevine Mills mall just so he could take the kids to the Rainforest Cafe and see what they thought of the Alligator. All was good until it moved – Lance was alarmed and Ivy, well, she just tried to flee the scene. It took quite a while to recover, even with some calming fish to watch. Brian had a good laugh.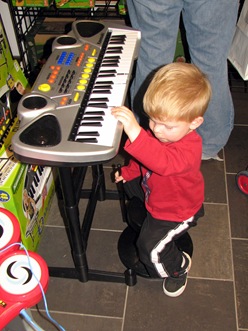 Later the kids checked out the toy store while I fed Flora. There was a train set and Lance just watched it go around and around for as long as Daddy would hold him up.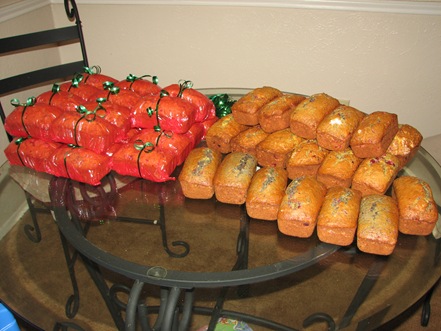 Sunday we really got into the Christmas spirit by baking 48 loaves of cranberry bread to hand out at Brian's work.
That evening we took the bread to his office and the kids acted as little elves, putting a loaf on each desk along with our newsletter. We sang Christmas songs the whole way there and back and ended the day tired but happy!