After the museum we stayed with some friends then took our time traveling to my brother's house in order to spend an evening with him.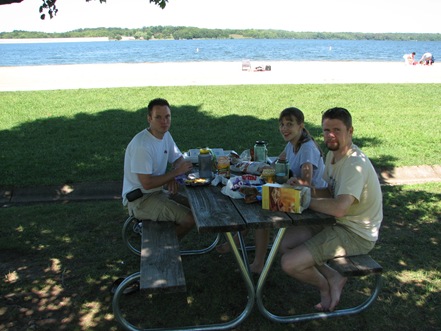 Along the way we stopped at a state park to play disc golf and then lingered in the cool weather to enjoy a picnic lunch by the lake. This was so relaxing!
As part of our trip we visited Washington D.C. We drove in early Tuesday morning to secure the free parking then rushed past a memorial or two in order to get tickets for the Bureau of Engraving tour.
We paused after the tour to eat some lunch and I fed a friendly little squirrel. It was a picky squirrel – would only eat the peanut butter and not the bread. It didn't like chips either. After eating we went up in the Washington monument to enjoy the view.
Unfortunately I felt bad so Brian and I left early to have some down time at our host's house. We spent the next day there as well, just talking and enjoying a slower pace.