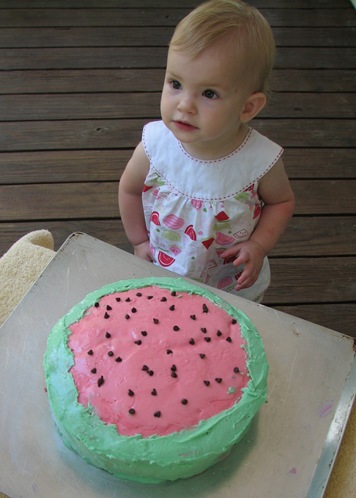 On July 6th Ivy turned 1 year old – somehow it seems she grew faster than Lance. She LOVES fruit and water so we celebrated with a watermelon cake and swimming!
She and Lance loved the slide in the little pool.
This video is for Brian's mom because she protested that the last post didn't have any. We were at my parents house and they have well water which is pretty cold. You can here how it takes their breath away each time they go in the water.
To warm up a little, Lance gives Ivy a tractor ride. (Actually, it wasn't much of a ride unless someone was pushing – it's hard having short legs.)
Last summer Uncle Dude built a water "sprinkler" the kids could run through – Ivy and Oliver liked it the best.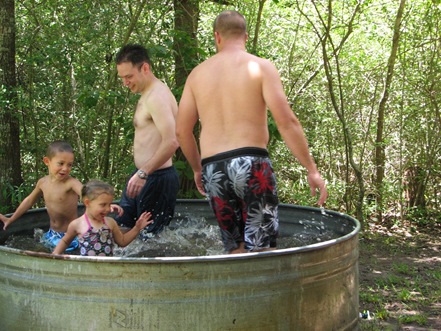 Meanwhile the dads and big cousins played in the big pool (i.e. a stock tank)
note: I swam in this growing up and it's still good. If you're looking for a nice pool this one is a good investment.
Dad and Lance take a turn splashing while we were filling it up.
Next we opened presents, ate and had cake!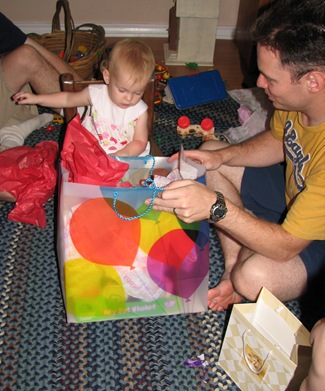 Ivy had no problem figuring out how to open presents and was able to move from one to the next a lot easier than her brother at his first birthday.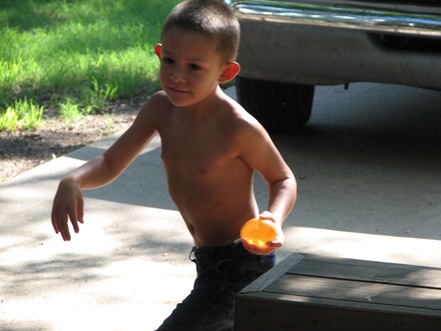 Connor discovered the water balloons so I filled up a dozen or so for us to throw.
We decided to ambush "Uncle Brian". I called him outside "for a minute" and then – whamo! We got him!
This turned into an all out war (once I had filled up more balloons). Kids against Dads.
The kids held the fort valiantly.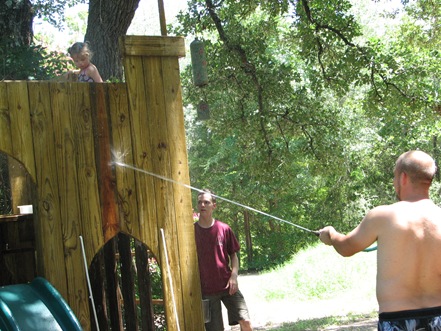 Sometimes Dads cheat

It was a wonderful birthday party though I wonder if the big people had more fun that the birthday girl.