The adventure continues.
The weather was absolutely perfect for camping! Cold but not freezing at night and cool to warm during the day.
Our first morning Brian cooked up a fantastic breakfast which we ate down by the lake. I had fun feeding crumbs to the fish.
We cleaned up then hit the bike trails for at least ten miles of riding.
After lunch we decided to play horseshoes on the beach prior to swimming. We also decided to hike the long way around to the beach. Poor Brian carried the horseshoes the whole way – I carried the stakes

When we finally made it to the beach we were really hot and in danger of getting a sunburn but after toting the gear all that way we just HAD to play a game.

It seems that every time I'm expecting we take a trip and do a lot of physical activity – this time was no exception. Afterward the game (Brian won) we took a refreshing dip in the lake and raced out to the floating dock. Brian was shocked with my speed and I told him it was because I was so skinny I had no drag

After our swim we played a few games. Brian creamed me at Tennessee for Two but I paid him back in Cribbage, getting the highest scoring hand you can possibly have and ending the game in a skunk.
Final event before supper and s'mores was the nature walk. We found a pretty spring and took our picture of course!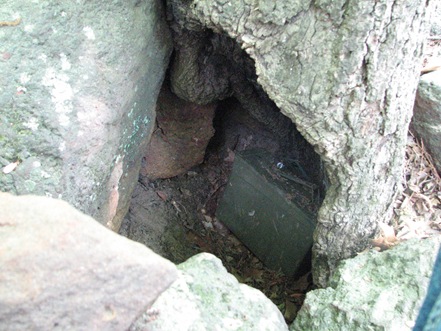 At the top of the spring I found a Geo Cache – didn't know what it was and was afraid to disturb it but found out later that it's a sort of game and people try to find them then record it in a little book located inside the box. Oh well.
They had done a lot of controlled burning in the park. Brian and I were amazed at how precise they were – leaving clear trails in the middle of burned patches.
Some nature. Dogwoods were in bloom which added a pretty touch to the park.
All in all, we had a wonderful time and marveled how easy life was with just two people. Thanks to Brian's parents for watching the kids!