Tired of twiddling our thumbs while waiting on baby to arrive, Brian and I decided to pack the weekend and have fun!
Sat. morning found us up by 5:30 to take our usual walk (in hopes of starting something). After breakfast and getting ready, we headed out to the city parade. It must have been a long time since I saw a parade – I was amazed at the amount of candy being thrown around, though this must be somewhat the norm because people were prepared with bags to stash it all away. Our church had a float and they handed out bottled water which I thought was a great idea.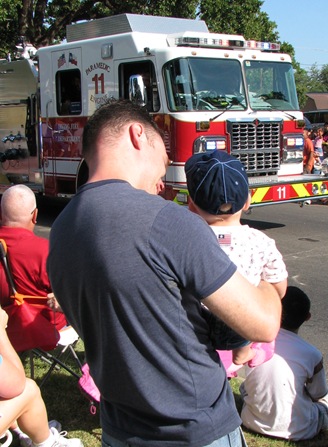 Watching the first truck at the beginning….Lance's favorite was the drum and cymbal players and the mariachi band.
Watching with Daddy                                                   Enjoying a sucker thrown from one of the floats.
From the parade we went home, ate some lunch then headed back out to see Sam and Bekah and their new little baby, Sadie. Lance was mildly impressed. From there we took a quick trip to Fry's electronics (Brian's outing) then headed to Gammy and Gampy's for some food and swimming!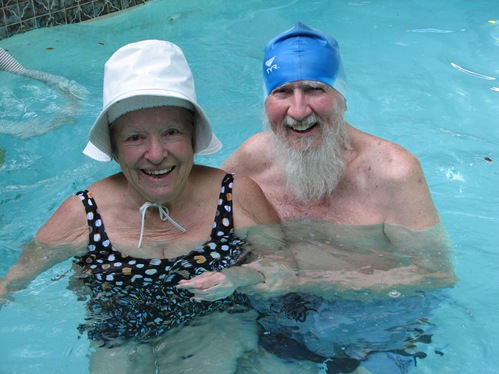 Gammy and Gampy, celebrating 61 years of marriage on the fourth – Gampy jokes he picked this date for the wedding because it was  the day he lost his independence.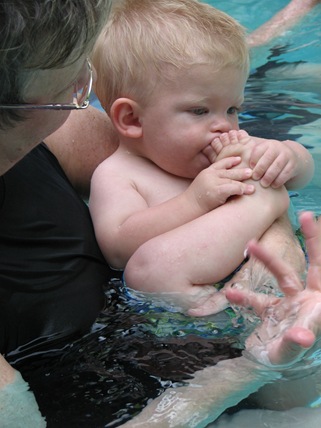 Lance had plenty of people ready to play with him.
We were exhausted by the time we headed home and Lance hadn't had much in the way of a nap all day so we all lay down for a rest at 8:00 while deciding whether we were up to watching fireworks. Lance seemed to sense there were exciting possibilities for the evening and still hadn't dropped off to sleep by 9:00, so we all got back up, and headed out to Brian's work to watch the fireworks show. We made it in time to hear the last two pieces played by the Irving Orchestra then watch a spectacular fireworks display. Lance jumped at the first two or three booms then watched in amazement. Back in the car as we drove home he jabbered excitedly until the lateness of the hour kicked in. We all made it to bed by 11:00….and Lance woke us up at 6:30 this morning. Great holiday!