At the end of 2014 I picked a word to be my focus for the coming year. For various reasons (explained in our newsletter) I picked the word "Love." This is a really big word with a lot behind it, but I'm using the "love is" description from 1 Corinthians 13 to direct my study of this concept. As I tackle a word from the list in the passage, I am using it as a monthly character focus with my children. The word for January was 'Patience.'
Iris practices patience with blanket training.
To my encouragement, right after I had decided to do this, my mother in law sent a character curriculum she found.  It puts lyrics to classical songs and suggests simple activities to reinforce the idea.
For the song "I want it now" we planted seeds and talked about how a farmer has to be patient, waiting for his food to grow.
"Turtle Joe," was a song where other animals wouldn't wait for a turtle, which made him sad. Then some animals were friendly and walked slow with him. I printed little characters which we used in a puppet show for Dad. We also went on a "patience walk," waiting for the slower members of our group. This was very hard. We barely made it to Grammy's house next door.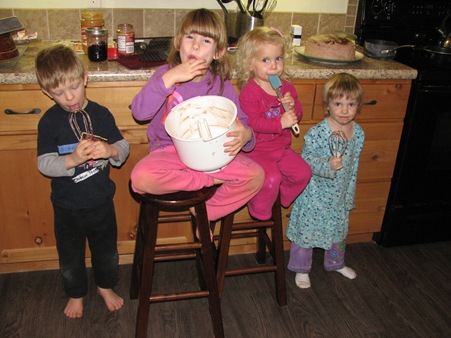 I checked a few books out from the library that talked about patience. One was about a little bunny that couldn't wait to eat some chocolate cake. So we made a cake and had to wait all day to eat it!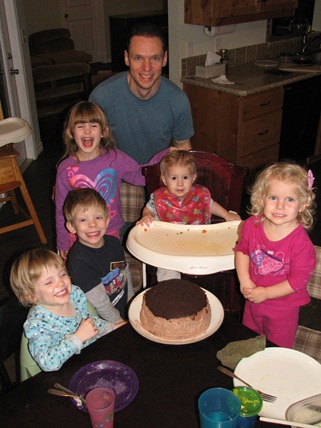 Ready to devour our yummy chocolate cake after eating our supper of carrots, potatoes and peas (same thing the bunny in the book had to eat).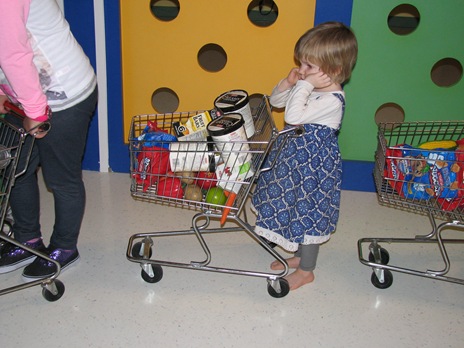 An unexpected chance to use patience came when we visited the new children's museum in town. The grocery store was a popular exhibit and the kids had to wait up to 15 min. for their turn to check out. This was done on their own with much calm and order – more than adults are known to exhibit at the real stores! Not one of the children – mine and others alike – could be dissuaded by a bored parent to abandon their cart and move on to another exhibit.
Another song "Are we there yet?" talked about patience on a car trip. I looked up ideas for a car toy that didn't have a bunch of pieces to lose and pick up and settled on little play boxes. This activity was a big hit with the kids – they LOVE their boxes and find it hard to leave them in the car for next time.
Here's a close up of Flora's and Lance's boxes. They had to scour their treasure boxes for a toy that was small enough to fit inside. Then we created a home around each toy.
Eden and Ivy's box. Ivy loved using the glue gun and decorated the outside more than the inside!
For the song about growing up, we looked at our photo albums when the kids were younger and then talked about waiting for our new baby to come. We ended up taking a little peek at the baby and "impatiently" found out what we are having!
We used cupcakes with colored icing inside to let the kids in on the secret.
During the month I did a focus topic study on the word patience in the Bible. Specifically looking for two things: How does God love me with patience and how can I use patience to love God. I did a little write-up of my thoughts and observations if you care to read it by here: Love is Patient.
Up next month, coinciding nicely with Valentines, we'll be looking at kindness!