Monday morning dawned warm and pleasant as a young mother in "big city" Texas loaded her sleepy young children into the car. Suitcases had been packed and stowed the night before in anticipation of the trip.  Tousled blonde heads leaned against the car seats and tried to figure out the change in routine – why were they up and where were they going? Little did they know what fun was in store for them!
Camp Grammy** is located on a peaceful, 7 acre country estate, owned and operated by energetic and loving grandparents. Each year "Grammy" likes to bless her children by investing in the next generation. "I just want to instill a love of learning and let the kids know they are dear to me" says Grammy*.
This year's theme was "Bugs." Observing and collecting specimens was aided by the help of several counselors and the abundance of natural habitat surrounding the main lodge. This young camper took his project seriously, turning over rocks and wood to find each prize.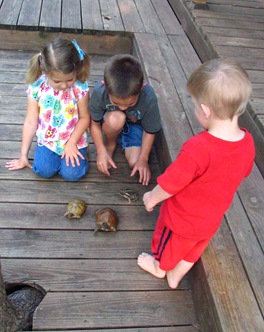 All children love pets and Camp Grammy is ready to accommodate! Several turtles, a frog, a snake, baby goats, chickens, a rabbit and  kittens awaited the arrival of the campers.
Lance, a first timer, bonded quickly with a turtle, toting it everywhere. He took it swimming with him, drove it around in the coop car, and raced it across the porch. Lance's comment on his new friend was "that Lance's turtle – Ivy don't take away."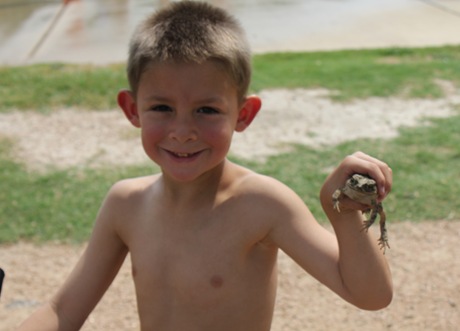 Connor, a veteran camper, enjoyed finding and catching frogs. He was so adept at this skill that no less than 3 frogs were caught! Two were generously sent home with some visiting kids. Connor's remark was that "they didn't have any pets" so he thought this would help their poor lonely hearts and encourage their mother.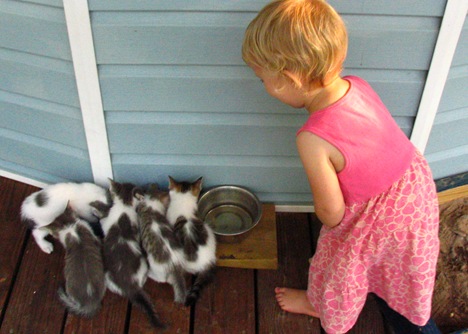 Ivy enjoyed the kittens so much that they took up residence under the porch and out of reach. She also decided that with love came responsibility…
…so she and her brother thoughtfully cleaned the litter box and changed the water at the same time.
It's not camp without some good cooking! Flora and Jenny were thrilled to have started solids in time for their attendance. Summer time treats included garden squash and watermelon rinds!
Other fun snacks included "ants on a log", peanut butter bees (Lance's favorite) and marshmallow bugs. Who needs mealtime with treats like these!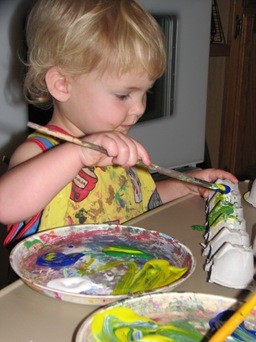 Art class was a hit with one young camper. From drawing to painting, Ivy made sure there was no shortage of artwork.
Her masterpieces adorned the refrigerator, the white board, several walls and a door. The only question left on her abilities was "what will she draw on next!"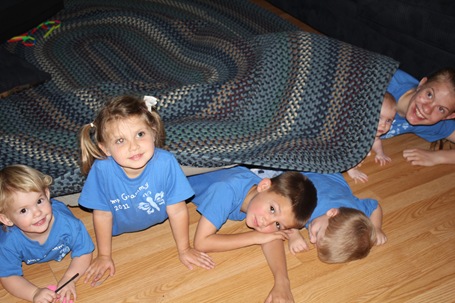 Of course, with this many cousins in one place, any type of bed time is slow in happening. To help burn off extra excitement counselors tried hard to keep them moving until they dropped into bed. Bug exercises had them hopping, crawling and hiding under rugs.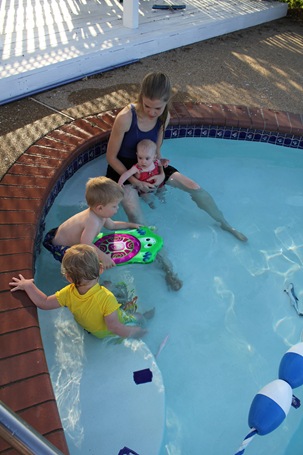 Swimming and water sports were an everyday activity. Whether in the camps stock tank, a local spray park or a friend's pool, campers were able to have fun and stay cool!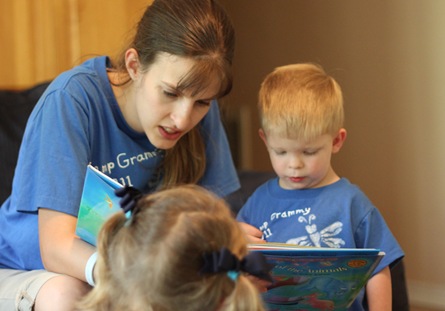 From learning….
…to love, Camp Grammy has it all.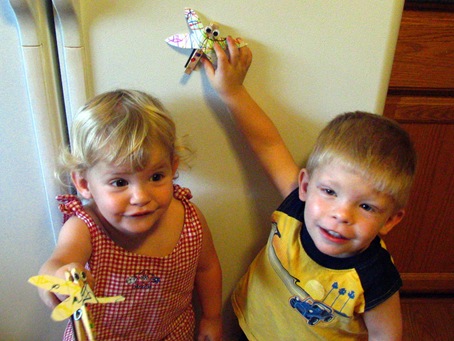 A grateful mother sums it up; "it (the camp) was inspirational and relational at the same time. I admire the devotion and creativity exemplified by the director and staff. My children will never be the same. Thank you, thank you Camp Grammy!"
* All quotes are based on knowledge of the individual and are totally made up by the author.
** Camp Grammy is a family owned, non-profit, all exclusive organization. Registration requires relation – some exceptions applied. For more information call 1-800-camp-grammy