The book this week was Goldilocks and the 3 bears – spellbinding and a tad on the scary side (when read with great drama) but a great starting point for all kinds of fun!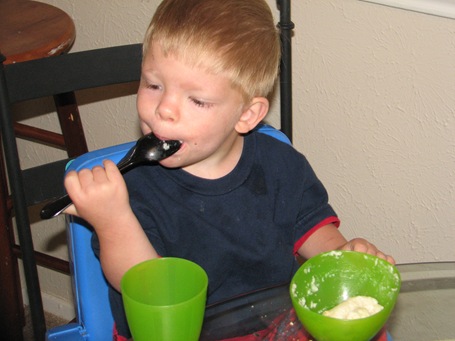 Monday was a little crazy so all we managed was eating "porridge" (cream of wheat) for breakfast. Both of the kids thought it was great!
Tuesday was a spur of the moment visit to our friend's house where we shared our craft idea and their space. We made a "texture bear", putting eggshells and coffee grounds on a bear shape. Why these two items? Because that's what we had lying around.
Ivy LOVED squeezing out the glue. I forgot to read the story this day but Grammy saved the day with the bear story on CD that they listened to on the way home.
Wednesday was another craft – character masks. We practiced talking with the different voices.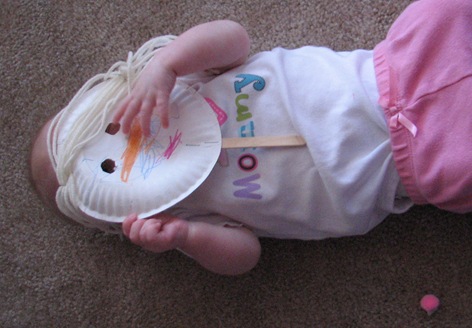 Flora played Goldilocks.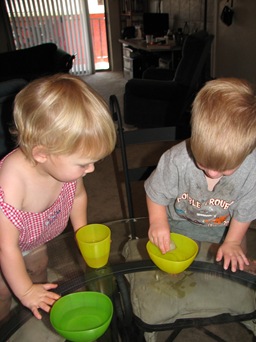 Thursday we explored temperatures, chairs and beds – just like Goldilocks. Here we have water that is hot, cold and "just right".
Lance tried papa bear's water before I could stop him and discovered that it was "too hot." Ivy wouldn't touch it after that. A sip of mama bear's ice water helped and then they both drank baby bear's water all up.
This bed was supposed to be "too lumpy" but it seems it was "too bouncy" instead. This was right before naptime and I tried to convince them that their beds were "just right" but I guess they weren't as tired as Goldilocks because they didn't fall fast asleep until I had read a lot of books.
Today was another take on the bear theme. We went on a "bear hunt." This is another book from the library that we have been reading. Brian does such a good job that Ivy is half scared of finding the bear but both kids adore having it read.
We went down steps, climbed over a wall…
waded through the water, ran across a grassy "field"….
and found a bear in a dark cave!
It has been so much fun doing these little projects with the kids and they love it! I enjoy watching their little brains make new connections and have something to tell daddy when he gets home. Thanks to all who submitted ideas, time, items or encouragement.