Last night Brian and I needed some room to think so Brian "banished" the kids to their room and put up the baby gate. To deal with the emotional trauma of being thus distanced from the adults, Lance and Ivy made up a game: Throw everything that can be moved over the gate.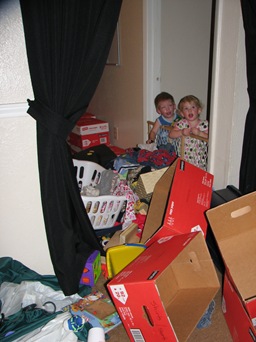 I kept glancing in their direction as shoes and toys bounced into sight but they were laughing and not fighting, and it couldn't be that bad, right? Brian said not to worry myself about it, he would clean it up.
When we were through we went to survey the damage. Every toy, block, shoe, some craft items and their clothes had been mixed together on the other side of the gate.
I decided to help with the clean up anyhow.