This post is going to try and make up for lost time, so hang on!
We went on vacation with the Cahill family last week to Devil's Den AR.
We explored caves (the "Devil's Den")
Found little known side passages.
Went hiking up and down the mountainside.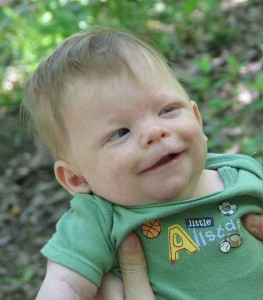 Enjoyed a cute little baby. (He's winking)
And had lots of fun! (Brian and Benj. skipping rocks)
More on this trip later….
Because I was curious to see Brian in a beard he didn't shave all week (small sacrifice

) as was his typical camping custom.
With a beard….. without a beard – what do you think?
Brian stayed up late Friday night putting together a kids seat on my bike so we could take an expedition the next morning. We rode 10 miles on a path near his work – Lance semi-sleeping the whole time, hair blowing in the wind. We jumped in the pool when we got back home to cool off. We thought Lance might like to try a little 'wading' but when we dipped his feet in the water he scrunched up his face and cried! Guess it's still a little too cold for swimming lessons.
And finally, this morning I caught some "man to man" talk on video.
So that was our week – this next week's news: Graduation and a Wedding!