Our 11th anniversary is coming up this Saturday! In talking things over about six weeks ago we started looking into taking a trip of some sort.  As we began checking into options and childcare everything fell into place for us to go in mid September! A little early maybe, but when childcare for 7 children lines up, you go! I felt a little flattered that it took four couples to look after the kiddos I manage on my own every day :-). We are super grateful to those that made this trip possible and to our oldest children who ran the barn and garden on their own while we were gone.
We went to Petit Jean State park in AR – a place of many childhood memories for Brian.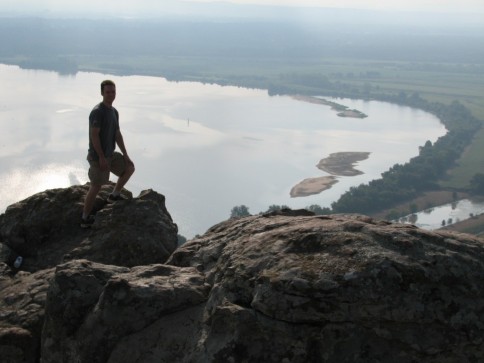 We spent 3 nights in a cabin and enjoyed all the hiking it had to offer!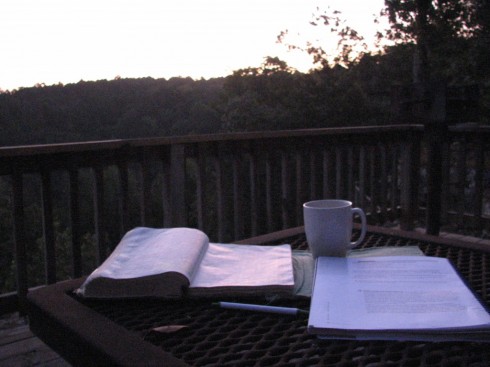 Bible study and hot tea with the sunrise – so peaceful!!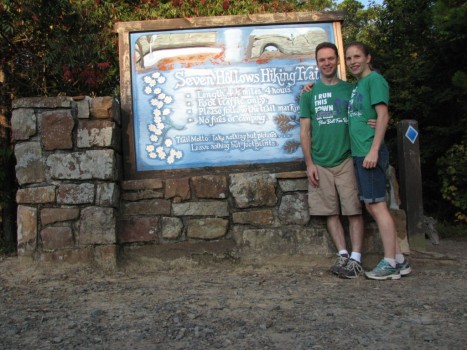 Seven Hollows trail – a four mile loop with a variety of scenery.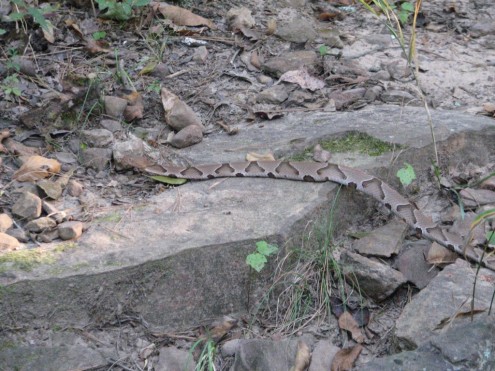 Unfortunately, these guys were part of the scenery – we saw five within an hour all next to or crossing the trail. Two made a warning noise as we walked past, giving us quite a jump! For a while we missed most of the scenery as we kept our eyes scanning the trail.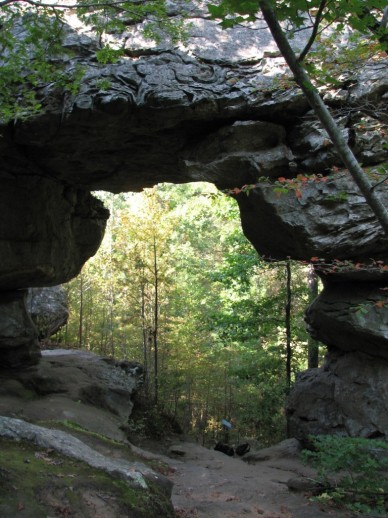 Stopped at the natural bridge for a snack and some exploring. Later things got hot and I got hungry and tired and wanted to head back. Brian wanted to take a linking trail to another part of the park – several more miles. After eating lunch I felt better and went on with the hope of swimming when we got to "Blue Hole."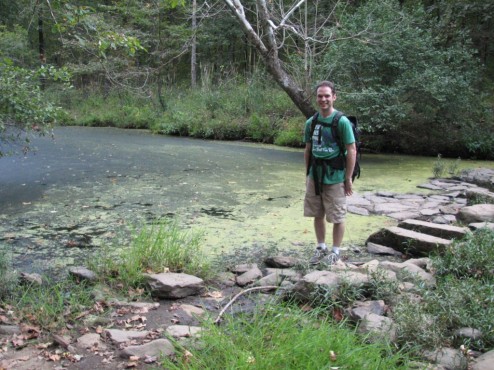 It turned out to be more of a "Green Lagoon" and we passed on swimming.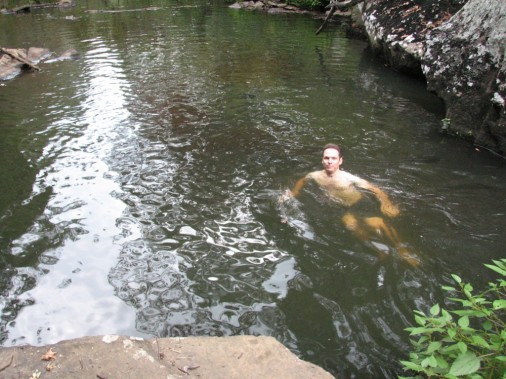 We found a better place a little further on and cooled off for a bit.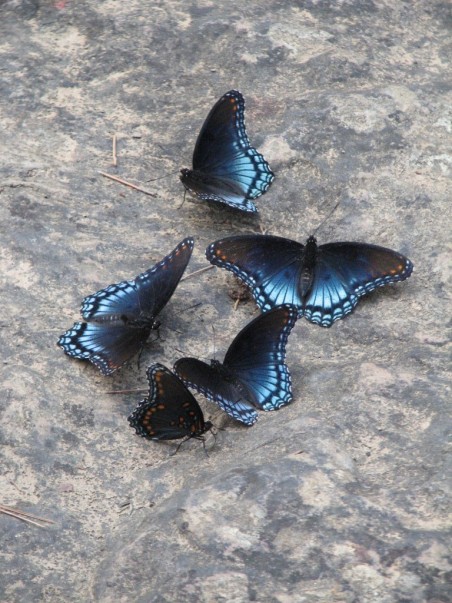 While there we found a butterfly gathering place like I had read about in science with the kids last year. It's a place where all the males gather and wait for females. There were about 15 gathered here and it was so beautiful watching their wings open and close.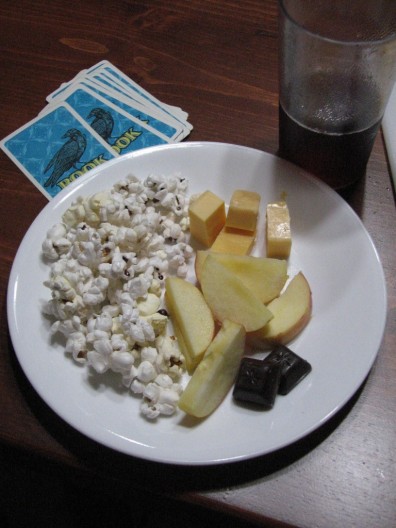 Later we enjoyed an evening of snacks and games. I even relented and played a game I always lose – just for old times sake.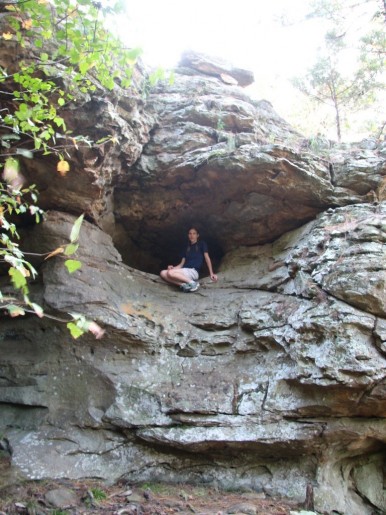 Another day of hiking yielded more beauty and challenge. We blazed an old forgotten trail and explored rock formations and caves.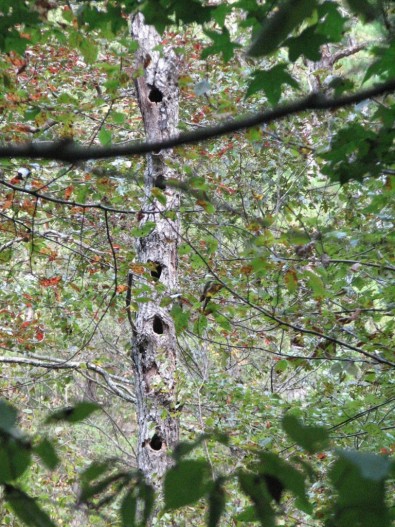 This tree must be a woodpecker hotel.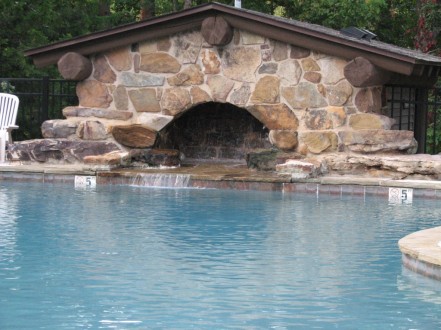 We cooled off in the new pool which was quite frigid! No matter how hot you were to start off, you could only stay in about 15 minutes. Invigorating!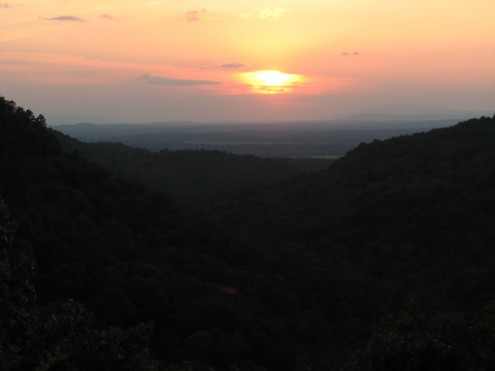 The first evening we saw the sunset as we finished swimming and it was so peacefully captivating that we went back and watched each evening.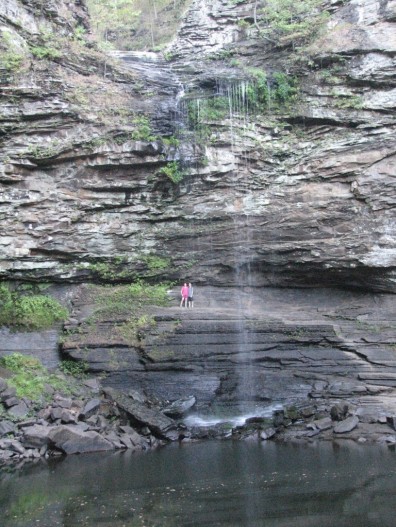 The last morning we hiked down to the falls.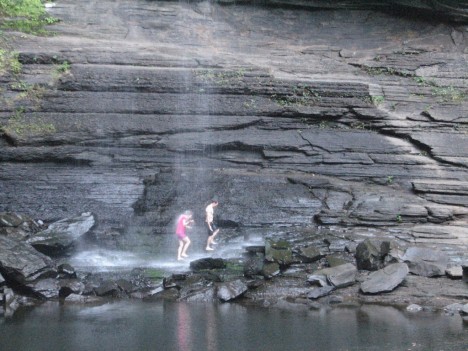 We took a refreshing shower under the falls then drip dried as we slowly made our way back to the cabin, enjoying our last glimpses of the park.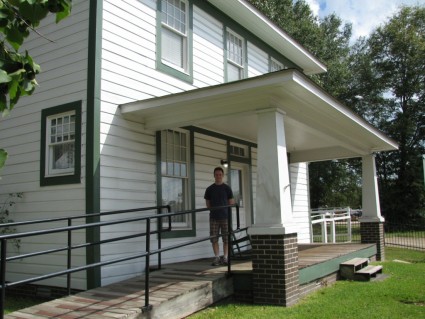 We visited President Clinton's birthplace on our way back. Stopping at a hotel for the night, we enjoyed the pool, some disc golf, and a little hole-in-the-wall Mexican food place – very tasty. We played more disc golf the next morning then picked up our children place by place and all arrived back at our house and normal life.
The time away was wonderful, like a breath of fresh air. We enjoyed focused time with just each other, doing the things we like to do. Here's to another year with my other half!