When we first moved into our house we lacked a dining table. At that time, my brother, who manages rentals, had a table from one of those houses that the tenets had left behind. This happily filled our need and along with folding chairs has served us well for the last four years. However, as the family grew the table filled and we really needed something bigger.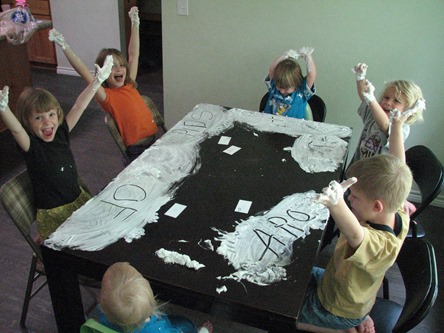 We had looked at tables and chairs several times but had always remained undecided on what kind of surface would prove most durable under the use of many children. Then, on a date night several months ago, we went to Cotton Patch and found what we were looking for; metal tables! So Brian started researching options online. This table option proved hard to find however so Brian emailed the restaurant and asked where they purchase the tables – and so starts the story: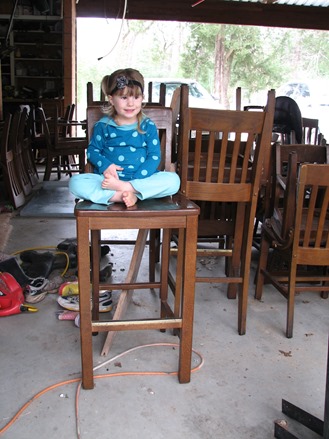 A response to Brian's email is met with an offer – they are remodeling a Cotton Patch in Tyler and we can have the tables. And the chairs. For free! So we pack ourselves in the van, grab a trailer and head to East Texas. We packed in 8 booth tables and 40 chairs! Wish I had a picture.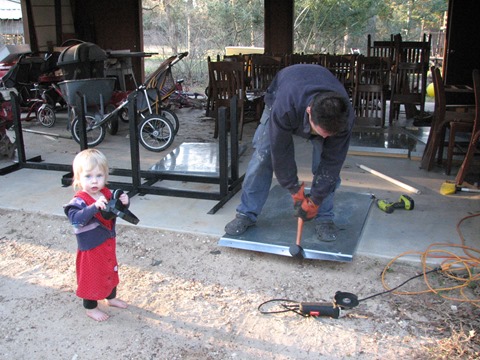 Since booth tables aren't big enough for a family of 9, Brian set about figuring how to put several together. First he  bent down a metal lip that had secured the table to the wall. He scored the metal with a grinder then hammered it with a rubber mallet. Skye attempts to don ear protection.
Brian's parents came for a weekend and his Dad enthusiastically helped with the table while his mom, my mom and I cleaned the chairs. Brian took each booth leg and cut the end off square.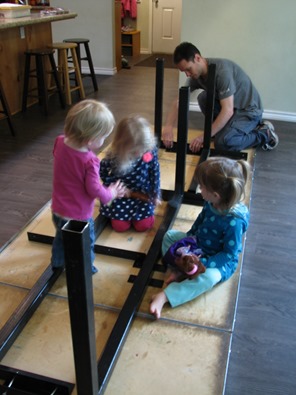 The legs were arranged just so, where they gave support and didn't interfere with packing as many chairs as possible around the table.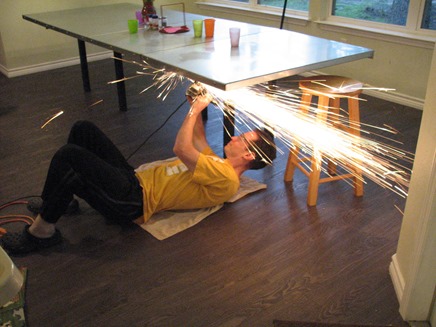 At Amy's request, Brian ground off some metal corners that she kept bumping with her leg. The kids were quite impressed and all watched from a safe distance.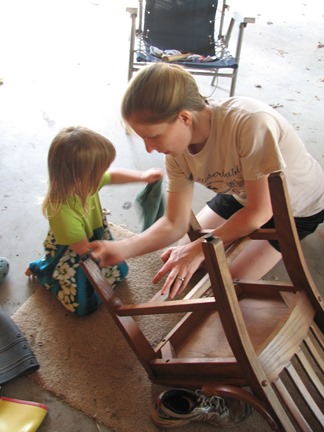 While the table production happened in several stages, chair work took place as well. First, to clean off the chairs, hopefully to rid them of restaurant smell.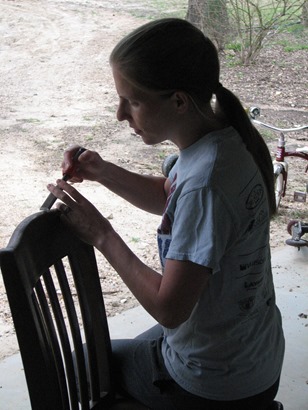 Then stripping the finish on the tops where grease and oils from many hands had made it gunky. Finally a wipe on poly was applied to protect the wood again.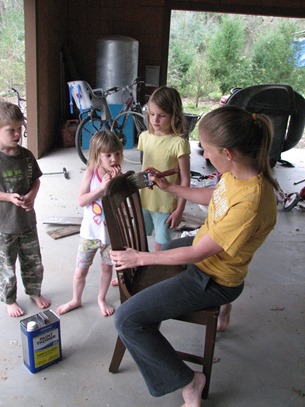 Unfortunately, the poly dried sticky – so it had to be wiped off with paint thinner and reapplied. This time Amy used a different product – just in case. Redoing a finishing times 40 chairs is a lot of work but Amy's mom and sister, Stacie, lent a hand. The weather cooperated with lower humidity and the chairs dried hard and smooth.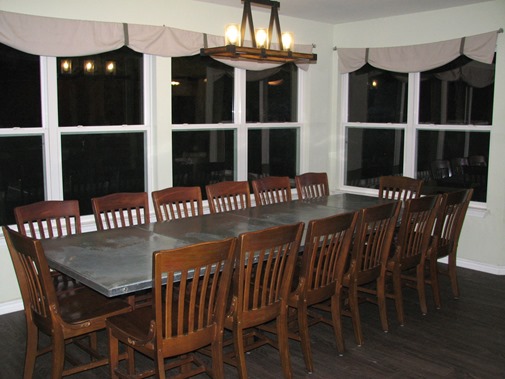 14 chairs now surround an indestructible metal surface. 10 chairs are going to some friends who needed some, another 7 will go on the back porch for outdoor meals and the rest will be stored under the house until some occasion when they are needed.
Someone asked how we find deals like this and I answered "you have to be very patient." That, coupled with some clever thinking and sweat brings us a table and chairs that will serve our family for years. Thanks to God for providing the idea, the supplies and the means!