2014
You are browsing the archive for 2014.
By amy on June 15, 2014
Little Iris is growing fast! She is surrounded by plenty of stimulation – thanks to her four older siblings. About 3 months old, Iris plays with a friend during our co-op. Enjoying a family outing. At five months she was learning to sit…. …mastering the skill in time to enjoy the wading pool! A strong […]
Posted in Family News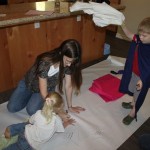 By amy on April 17, 2014
This is an Easter activity we did at a church in Dallas. My sisters helped me recreate it at our house to help teach the children the Easter story. Enjoy! And they brought the colt to Jesus, and cast their garments on him; and he sat upon him. And many spread their garments in the […]
Posted in Family News
By amy on April 6, 2014
Ladies and Gentlemen, boys and girls, please join us in celebrating the double birthday of Lance and Eden! Entertaining us will be Mr. Stripes and Curly Girly the clowns – turning 6 and 2. Here's the whole troop – definitely a three ring act! Let the show begin! Step right up, step right up – […]
Posted in Family News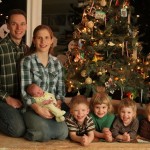 By amy on March 5, 2014
Sharing a few pictures from Christmas and a link to our annual newsletter: http://www.cahills.us/newsletters_files/2013_newsletter.pdf Christmas 2013 – the best gifts to have under the tree! Cahill clan in their footie pajamas. Thanks to my brother in law Benjamin Cahill for taking these photos and to Uncle Kevin for making them laugh!
Posted in Family News
By amy on February 27, 2014
Back in November we tried to hatch some Barred Rock chickens for Flora's birthday. She loves zebras and these chickens are black and white striped. Having never worked an incubator before, I made some mistakes and our hatch rate was very low – 3 out of 3 dozen; none of which were the striped kind. […]
Posted in Family News