Today I am particularly grateful for the quick arrival of a tiny bundle of joy fours years ago. Flora has blessed our life with a constant reminder to observe and enjoy all things beautiful. 
Two weeks ago we celebrated her life along with her birthday buddy and cousin, Jenny. Being so close to Thanksgiving we planned an Indian birthday party. My Mom, two sisters and I had a fun time preparing a playscape for the party!
We made a wigwam using a dogloo, mom painted the backdrops and Katie found props.
I made a Pueblo house from large boxes.
Lori crafted a canoe with a shower curtain for water.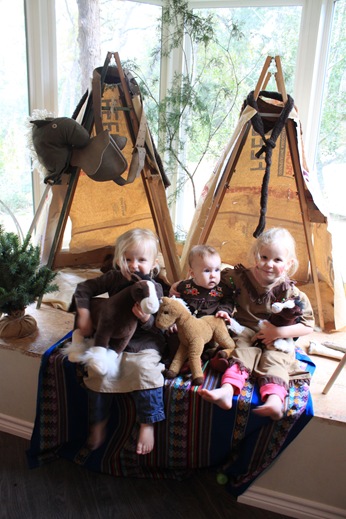 And teepees we made from feed sacks and easels.
Brian started off the party reading Pocahontas to the guests.
Then we made feathered headbands.
Katie assisted in bead bracelets – kindly supplying the supplies and patience to help a bunch of preschoolers string small beads.
We ate indian food – fry bread, popcorn, jerky and dried fruit. Do you like Lance's war paint? He didn't want to take a shower that night and risk it washing off!
We decorated ice cream cone teepees
And of course, enjoyed some cake! Jenny wanted to wear her princess dress instead of her indian costume. One of Flora's gifts was a princess dress and she has worn it almost every day since then. Maybe next year we'll just do a princess theme again

We sure love and enjoy these two girls – so opposite in personalities and natures, but such good friends. Today, when I told Flora it was her "real" birthday she exclaimed "Oh, now I can invite who I want to my party!" She thought a minute and then picked Jenny. I'm glad these two girls can share the bond of friendship as well as family.