This while last week has been spent fighting off illness. First Lance, then Ivy and now me (with daddy up and down too). We've kept mostly to ourselves, and mostly indoors but here are a few highlights:
For starters, Ivy is crawling! It definitely keeps her occupied though she had to be moved off of daddy's tax forms three times last night as we looked over them.
Brian had a day off on Friday and we hit the mall to get him some new duds. His work clothes were wearing out so what started as a hunt for shoes turned into a whole wardrobe. The Lord was gracious to maximize our dollars by combining sales, discounts and coupons. Ivy was great – best day of her life, at the mall all day long! Brian was done in by the end so we had a pizza and movie night while I felt the beginnings of being sick.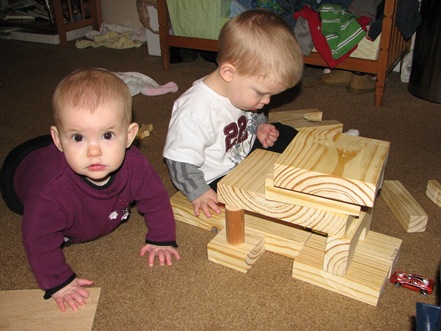 I built a castle for Lance, but here comes trouble!!!
Sat. we looked at houses for sell – we're getting a better feel for what we would like…even if it doesn't seem to be out there

Sunday everyone was sick so we held a little church service in bed. The kids seemed to enjoy the new playtime but stopped and stared when we sang a few songs – maybe we should consider dropping out of choir….
Sunday also marked a milestone for Lance – he made it all week without an accident! I think he might be potty trained!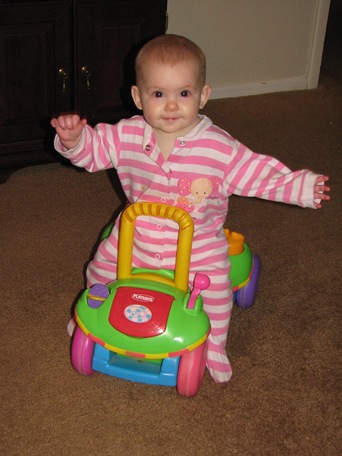 Monday I lost my voice. I tried doing laundry and cleaning up a bit to convince us all to get well, but it didn't work. The kids have been pretty good though and we've even had some funny moments.
Today at lunch Lance ate his sandwich with a fork because he didn't like the peanut butter on his hands.
After vacuuming last night both kids were watching me wind up the cord. Lance started reaching for it and I told him no because I didn't want him to unwind it. Ivy reached for it a moment later and Lance pushed her hand away saying "no…un-gy" (his way of saying Ivy).
Lance had three melt downs yesterday and one this morning so I decided it was time to get out of the house! We met with some friends at a McDonalds down the street. This was our chance to get out because snow is forecasted in the next few days.
Well, it's nap time for the kids (even if they don't seem sleepy)  and I'm going to hem Brian's new pants and maybe make something warm to drink in hopes of resuscitating my voice.