We had a great Labor day weekend. We drove down to Brian's parents on Friday evening and stayed until Tuesday afternoon.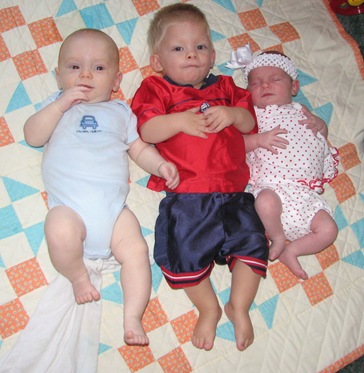 Brian's sister Rachel came, so all the cousins were together (this picture was actually taken last month). These three are going to be great friends and keep Nana hopping whenever they visit!
Ivy had her check-up and it appears that she has used whatever I had leftover from Lance. She's 24 in. and 12.6 lbs. putting her in the 95th percentile for weight and above that for height!  So my two kids are both off the charts…in either direction!

We also had time for plumbing projects, a visit with friends, games and a good round of disc golf.
Brian especially wanted me to post the results of this game because we (Brian and I) beat the other two teams (Dad and Daniel, Kevin and Benj.) by three and four strokes!
I think our good game had to do with our mascot – Mr. boots. While Ivy stayed with Nana, Lance got to come with the big people and was quite a trooper, lasting 16 holes – then Aunt Kim took him to the playground. We'll make a champion out of him yet!
We made it safely home  despite some craziness trying to get a birth certificate in Dallas. We unpacked, cut hair and went for a swim before settling down for the night – what a great vacation!